What I've Learnt About Hair Extensions – Six Weeks In
If you read my Honest Extension Review you will have seen how I was getting on with my Victoria Hutchinson & Co micro bead extensions. I thought it would be useful to update you on how I'm getting on six weeks in. It's definitely been a process of adjustment and has taken me some time to work out how to get them looking their best and how to look after them properly, but I feel like I'm getting there and can pass some of my tips on to you guys.
BRUSH!
This seems like an obvious one, but as someone who is not used to having long hair I didn't realise how quickly it could become tangled. I'd say at least twice a day you need to spend 5-10 minutes giving your hair and your extensions a good brush through. Allow yourself plenty of time to avoid rushing and pulling on your extensions. I bought a brush specifically for extensions, this one from Balmain which I love, but I must admit I use my regular brush on the ends as I don't feel like my extension brush gets all the way through. Start at the bottom and always support the extensions by holding near your head to avoid any pulling on the bonds. 2. Set it Free
I'm very used to the 'hair up/sweats on' mentality, so I was starting to put my hair up a lot more when I was chilling at home. After a week or so of doing this I found I lost three of my extensions! I've only lost four altogether so I knew I must be doing something wrong. I started to wear it down again or in a low pony and have had no losses since. It makes sense that pulling the hair back puts pressure on the bonds and will mean that your extensions don't stay in as long. Also, you've invested that money to give yourself 'wow' hair, so make the most of it!
3. Invest in a Mask
After about four to five weeks of having my extensions in I found they'd got quite dry and frizzy. I bought the Beauty Works Pearl Nourishing Mask and I would 100% recommend it. I first left it in for a couple of hours and then rinsed it out – what a difference! My extensions were back to their former silky glory. I now use it for every other wash and just leave it on for about 5-10 minutes before conditioning. It's an absolute lifesaver and you won't regret buying it.
4. Style is Key
As I've been working from home I've been washing my hair in the morning and leaving it to dry naturally. This gives me quite a nice natural wave and I also think that not heat drying it makes the extensions softer and more hydrated. The day after I've washed it I heat style it using my Beauty Works Heat Protection Spray and give myself some big waves. If I plait my hair at night the waves will still be there until the next time I wash it, meaning I can minimise the heat damage to my extensions.
5. Oil it Up
I bought the Beauty Works Argan Serum as a finishing product once I've waved my hair and I LOVE it! Not only does it smooth everything down and make it more hydrated, I think it also helps to blend my natural hair in with the extensions. You can use it before drying as well but to be honest I think it works better afterwards. When I wear my hair straight (which I don't very often) it gives me such a great shine and that extra boost of moisture extensions sometimes need.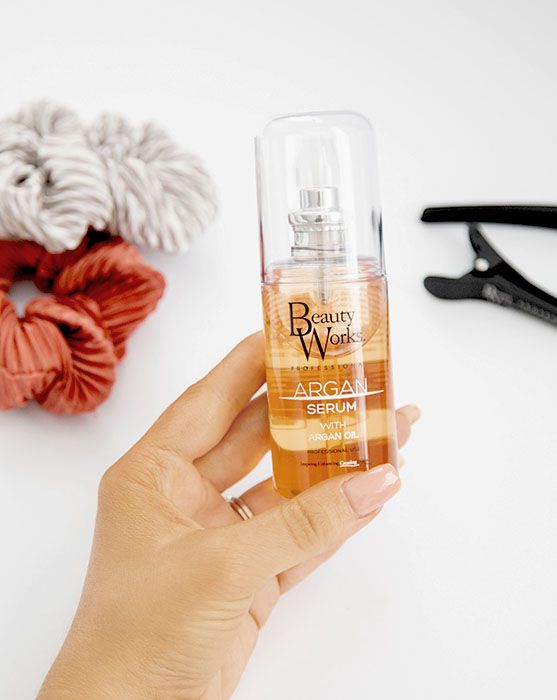 I hope this has been useful but if you have any other questions please feel free to drop us an email or book in for an extension consultation when we are back OPEN!! Can't wait to see you all soon.